I figured I would tell everyone a little about my day job. I am a second generation self-employed licensed tile contractor. My company is of course, Stover Tile and Design, and my lovely wife, April, does the books for me. I have had my license for close to 5 years now, but I have been doing tile just about my whole life.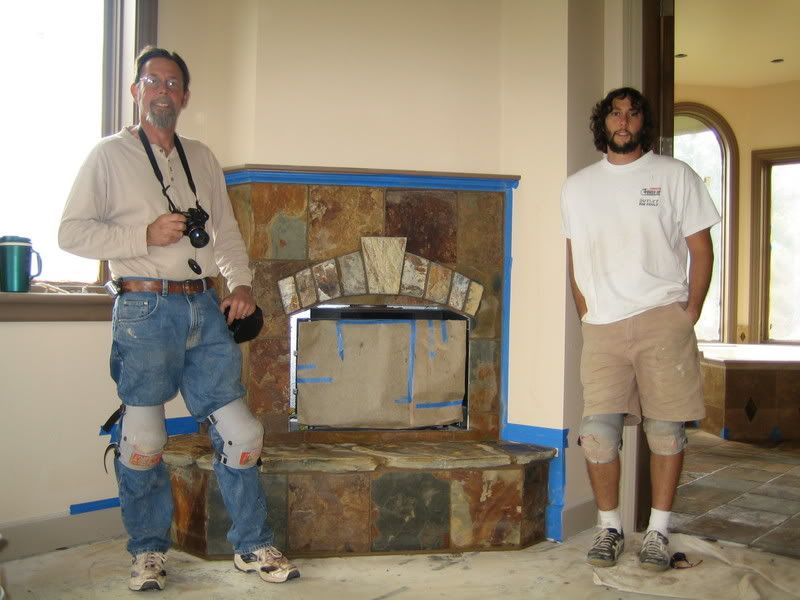 I learned how to do tile while growing up and working with my father, David Stover, who did business as Stover & Sons Tile. After 4 years in the Marine Corps and season of being a ski bum and driving snocats grooming runs at June and Mammoth Mtn, I moved back to the central coast and started working full time for my Dad again. I met my now wife April and eventually got my own license to do tile. I still worked for my Dad at first, but the added license was a great benefit. He ended up getting out of tile and buying another business, Tydix Products, and I continued doing tile under my own business name. (Here's a pic from 4 years ago, of my dad and I on one of our last jobs together.)
I have been blessed to have been able to work with some great general contractors and for some great home owners. Some of the projects I have got to work on have been amazing, really challenging, and fun. I try to add my own artistic touch to all my jobs. Here is a slideshow of some of my work from the past.
A couple years ago, my brother and his fiance, asked me to make a cakestand out of travertine for them. They could not find a square cakestand that they liked that would go well with their cake. I figured out how to make one and that was my first "piece" I made. They still use it daily in the center of their dining table and for all the birthday cakes. When work slowed down recently, I finally took the plunge and took everyone's advice and started making more pieces to sell and that is how I ended up with my etsy and artfire shops.
That's the quick and easy version of how I came to be in the tile business and how my online shops came to be. Enjoy the pictures and feel free to ask me any questions. :)